Fit to the Core!
Liz Downes : Zumba Gold, Yoga and Pilates Classes

"I love Liz's Zumba - it's such fun, the music and choreography are brilliant, it doesn't feel like exercise.
I always look forward to going" ~ Patti Traxler.
"Thanks for the great Zumba session today Liz, your classes are always such fun, I go to other classes,
but I'd say yours is one of the best I've been to, so much energy, so much fun." ~ Janis Huskinson
"Liz, your classes are pure genius, amazing choreography, musical interpretation and your own unique performance,
creating sensational classes every time. Thankyou so very much for making all of us who do your classes
extremely happy and fit to the core." ~ Joan Solomon
"Liz's infectious enthusiasm and great music make Zumba classes such fun,
you don't feel like you're exercising!" ~ Laura Thomas.
"In Liz's Yin Yoga class I get the chance to really relax and de-stress. My body really
benefits from holding the poses for longer periods of time." ~ Holly Nash.
Welcome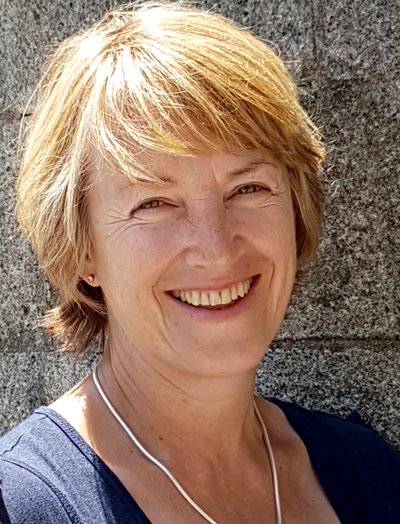 Hi I'm Liz Downes and I have been teaching fitness in the Worthing area for over 15 years. My mission is to improve the health and well-being of my participants in a way that is fun and inclusive. I acknowledge that we are all different with different needs and abilities and I aim to teach my classes so that everyone feels they are unique and valued and so can be confident to challenge themselves to attain their individual fitness goals.
I believe that by developing core strength we can protect our bodies to help them work efficiently for us, not just in fitness classes, but in everything that we do so we are functionally fit in the real world;  Fit-to-the-Core.
I haven't always been into fitness, I only made the swimming team at school because they were short on numbers! I discovered Yoga, Pilates and Dance first whist I was training to be a school teacher and then later whilst I was training to be an actor in London. I found I grew in strength and fitness almost without realising it purely because I found these classes so enjoyable. They were my hobby – I looked forward to them every week and always sought classes out when I was on tour in shows around the country.
I worked for over 20 years as a professional actor in Theatre, TV and Business Training, punctuated with bouts of school teaching here and there. Yoga, Pilates and Dance helped me to keep fit for what can sometimes be a physically challenging job. When I reached my 40's I decided I wanted to share the benefits I had felt with others by training to teach these classes myself. The rest really is history. I've taught for all the local health clubs: Pilates, Yoga, Zumba, Body Balance, Body Jam, Body Pump, Salsa Aerobics, Body Conditioning, Spinning… but now I've narrowed it down to things I love – where I first started: Yoga, Pilates and Dance (Zumba and Zumba Gold).
My Qualifications:
BEd Hons
NVQ Level 3 Pilates Matwork
NVQ Level 3 Hatha and Flow Yoga I.Y.N. 200 hrs
Yin Yoga
Exercise for Older Adults – YMCA Level 3 Award
NVQ Level 2 Pilates and Exercise to Music
Zumba Levels 1 and 2 (ZIN Member)
Zumba Gold
Les Mills: Body Balance, Body Pump, Body Jam.
Schedule of my classes:
MONDAY
YOGA 10.00 – 11.00 £6 (Yoga and Zumba Gold £10)

Angmering Community Centre, Bramley Green BN16 4FU
ZUMBA GOLD 11.00 – 11.45 £5

Angmering Community Centre, Bramley Green BN16 4FU
GENTLE YOGA 13.30 – 14.30  £6
Rustington Platinum Club at The Samuel Wickens Centre, (Waitrose Car Park) Rustington BN16 2NE
PILATES (Beginners) 14.40 – 15.30  £6
Rustington Platinum Club at The Samuel Wickens Centre, (Waitrose Car Park) Rustington BN16 2NE
TUESDAY
ZUMBA GOLD 11.00 –11.45 £5
Durrington Community Centre by TESCO Extra, BN13 3PB 
YOGA             12.00 – 13.00  £6
Durrington Community Centre  BN13 3PB (Yoga with Zumba Gold – £10)
Chill Out YOGA  17.30 – 18.30  £7
The Samuel Wickens Centre, (Waitrose Car Park) Rustington BN16 2NE
PILATES  18.35 – 19.35  £7
The Samuel Wickens Centre, (Waitrose Car Park) Rustington BN16 2NE (Yoga with Pilates – £12)
WEDNESDAY                                  
ZUMBA GOLD 09.15 – 10.00  £5 
Angmering Community Centre,  Bramley Green BN16 4FU     
PILATES 10.00 – 11.00 £6 
Angmering Community Centre, Bramley Green BN16 4FU  (with Zumba – £10)
GENTLE YOGA 12.00 – 13.00  £6
Rustington Platinum Club at The Samuel Wickens Centre, (Waitrose Car Park) Rustington BN16 2NE

FRIDAY
YOGA   9.30 – 10.30  £6
The Samuel Wickens Centre, (Waitrose Car Park) Rustington BN16 2NE
ZUMBA GOLD 10.45 – 11.30  £6 
Rustington Platinum Club at The Samuel Wickens Centre, (Waitrose Car Park) Rustington BN16 2NE