Fit to the Core!
Liz Downes : Zumba Gold, Yoga and Pilates Classes

"I love Liz's Zumba - it's such fun, the music and choreography are brilliant, it doesn't feel like exercise. I always look forward to going" ~ Patti Traxler.
"Thanks for the great Zumba session today Liz, your classes are always such fun, I go to other classes, but I'd say yours is one of the best I've been to, so much energy, so much fun." ~ Janis Huskinson
"Liz, your classes are pure genius, amazing choreography, musical interpretation and your own unique performance, creating sensational classes every time. Thankyou so very much for making all of us who do your classes extremely happy and fit to the core." ~ Joan Solomon
"Liz's infectious enthusiasm and great music make Zumba classes such fun, you don't feel like you're exercising!" ~ Laura Thomas.
"In Liz's Yin Yoga class I get the chance to really relax and de-stress. My body really benefits from holding the poses for longer periods of time." ~ Holly Nash.
Zumba
Over the last few years, ZUMBA Fitness has literally taken the world by storm – people have discovered how much fun it is to literally dance themselves fit!  The combination of easy to follow steps and great music from all over the world, provides an exhilarating and addictive experience. Zumba is exercise in disguise!
Zumba Gold – What's the Difference?
For me as I've got older, fitness has never been so much fun, but as we get older we need to make sure we're taking care of our bodies and keeping them fit in an appropriate way. Some participants find regular ZUMBA classes just a bit too much – they love the music and the buzz of the class but maybe their knees aren't so keen or perhaps the class is just a little fast for them. As an active older adult myself, who loves to dance, I was aware how my regular ZUMBA classes weren't suitable for everyone. However it's still possible to improve our cardio-vascular fitness and gain greater mobility with Zumba Gold. I found through my Zumba Gold training, that Zumba works really effectively at a low-impact level and still provides the sense of fun and enjoyment through dance but with the needs of active older adults in mind.
My Zumba Gold classes include a wide range of music and dance styles. There are Latin inspired tracks like: Salsa, Merengue, Cumbia, and Tango. Tracks with a Caribbean feel like: Reggae, Dancehall and HipHop. We also travel to Bollywood, revisit disco hits of the 70s and dance to the latest current chart hits. Zumba Gold may be a little slower paced than regular Zumba but we still work hard! Less speed allows for greater range of movement to create intensity. Also for newcomers it's a little easier to pick up the steps at a slightly slower speed. In Zumba Gold you feel your body temperature rise, mobilise your whole body, get a great work-out burning calories and have a great time!
Sometimes I know it can seem a bit daunting trying new things on your own, but my classes are really friendly and we enjoy a giggle whilst we wiggle! Many participants come on their own, others use it a great way to catch up with a friend, whichever way, you'll be made to feel most welcome. We don't do any partner dancing, but I do have husbands and wives who like to come along and enjoy the class together. ZUMBA Gold also appeals to younger participants who are maybe at the start of a weight loss regime and newer to exercise.
The first class is always the most challenging, as is anything new when we start, and sometimes participants like to watch for a while then join back in when they feel ready. You'll be surprised how quickly both your confidence and fitness develop. One of my participants told me quite proudly how she had recently needed to rush for a train over a footbridge and down along another platform. It was only when on the train as it pulled out that she realised she wasn't out of breath. "That wouldn't have happened before Zumba Gold!" she told me.
It's advisable to wear clothes in which you can move freely and keep cool, because we do get warm. Also trainers or supportive dance shoes are a must for safety. Oh yes, bring a drink of water too!
I run my own Zumba Gold drop-in classes in Angmering and Durrington and I also teach for the the Platinum Club in Rustington. All the classes are drop-ins lasting 45mins and everyone is welcome.
Zumba is great for the mind, body and soul – so come along and try it for yourself! I look forward to meeting you soon.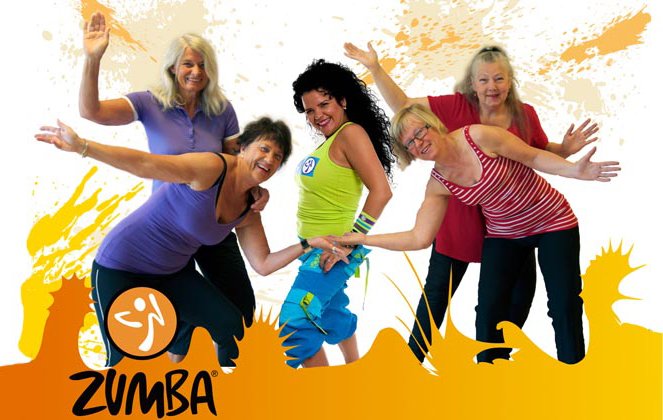 Zumba Gold Classes
MONDAY
11.00 – 11.45
Angmering Community Centre, Bramley Green, BN6 4FU £5
(with preceeding Yoga class £10)
TUESDAY
11.00 – 11.45
Durrington Community Centre by Tesco Extra, BN13 3PB £5
(with Yoga class that follows £10)
WEDNESDAY
09.15 – 10.00
Angmering Community Centre, Bramley Green, BN6 4FU £5
(with Pilates class that follows £10)
FRIDAY
10.45 – 11.30
Samuel Wickens Centre, Waitrose Car Park, Rustington BN16 2NE £6